Draped House
Draped House is a lean and reductive home, designed for a couple looking to live and work peacefully amidst the trees in Sydney's leafy Chatswood. Defined by its gracefully curving roof, the house gently mimics its sloping site.
Draped House is located in a neighbourhood where homes remain leafy and reclusive. Our site, a newly created battle-axe block, is dotted with gum trees—the most regal of which, a towering scribbly gum, acts as the home's centrepiece.
We were inspired by the early project homes of Pettit + Sevitt and Robin Boyd, whose efficient and economical designs defined a generation of suburban life. As with those homes, Draped House focuses on providing robust and flexible spaces, ample natural light and ventilation, and considered moments of architectural delight. The result is a humble three-bedroom home, measuring just 129 square metres.
Type

Location

Client

Status

Completion

Builder

Engineer

Interior Design

Photography

Recognition
Draped House is configured as a square, with two outdoor spaces eroding at this form. The house is placed in a broad clearing, which allowed us to retain established trees.
Upon opening the front door, visitors are greeted by the twisting boughs of the central gum tree. From this space, the house divides into two main wings: living is placed to the south, while sleeping steps down to the north. The main threshold becomes an entry seat before folding down to act as a study desk.
To offset the compact floor plan, the ceiling is triumphant and billowing, welcoming soft natural light and glimpses into neighbouring tree canopies. The gently draped roof is also climatically responsive, sweeping down towards the north to admit warm, seasonal sun, while blocking out bulky neighbours. Above the courtyard, a fabric shade cloth acts as another layer of "drapery," providing adjustable shade.
Draped House uses a referential palette of timber, gumtree greys and eucalypt greens. The "heart" of the house is lined with spotted gum, while the perimeter is clad in more robust compressed fibre cement sheeting. A concrete and sandstone base connects the house to its site and introduces thermal mass. In the bathroom, a sunken bath sits hidden beneath a timber shower platform.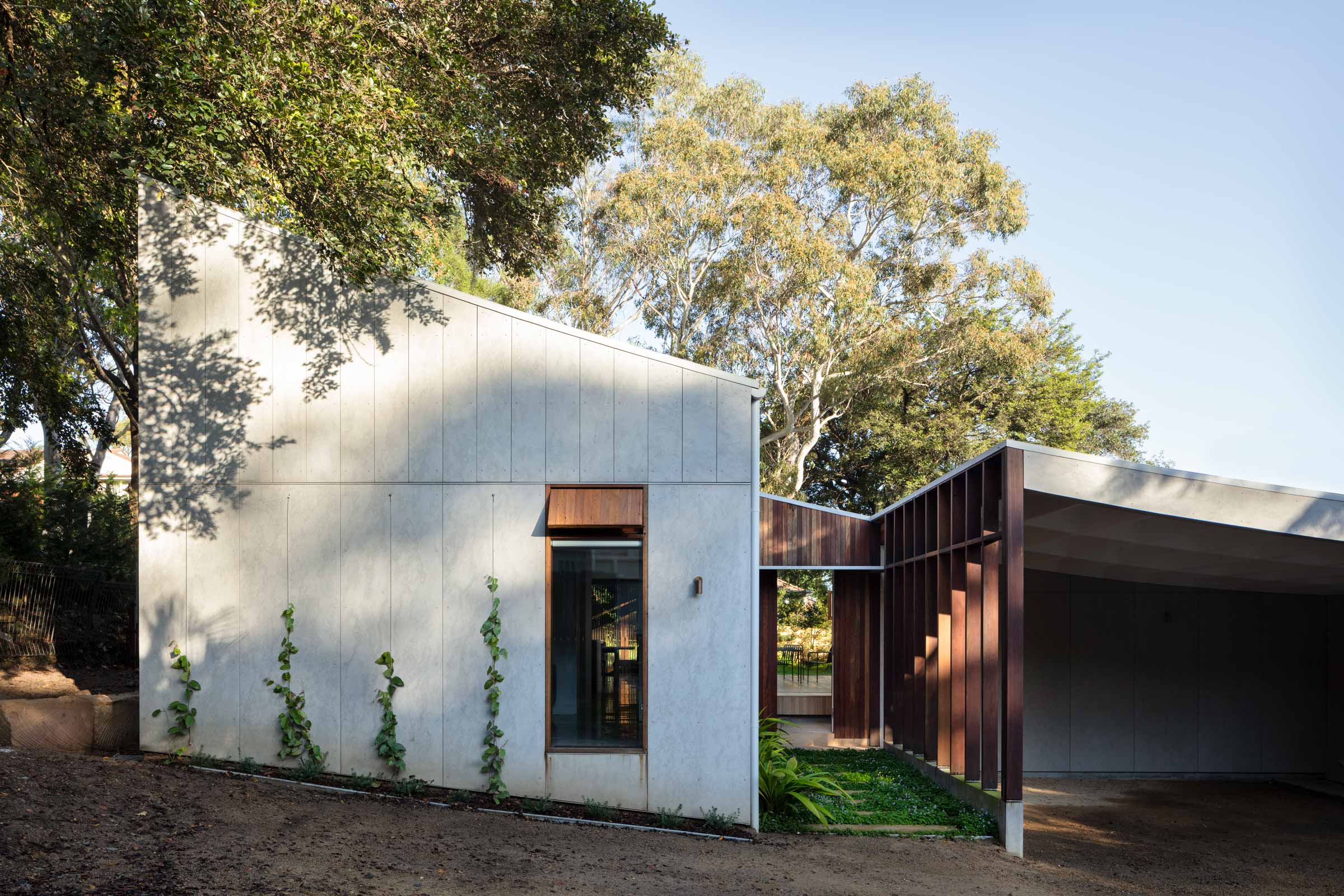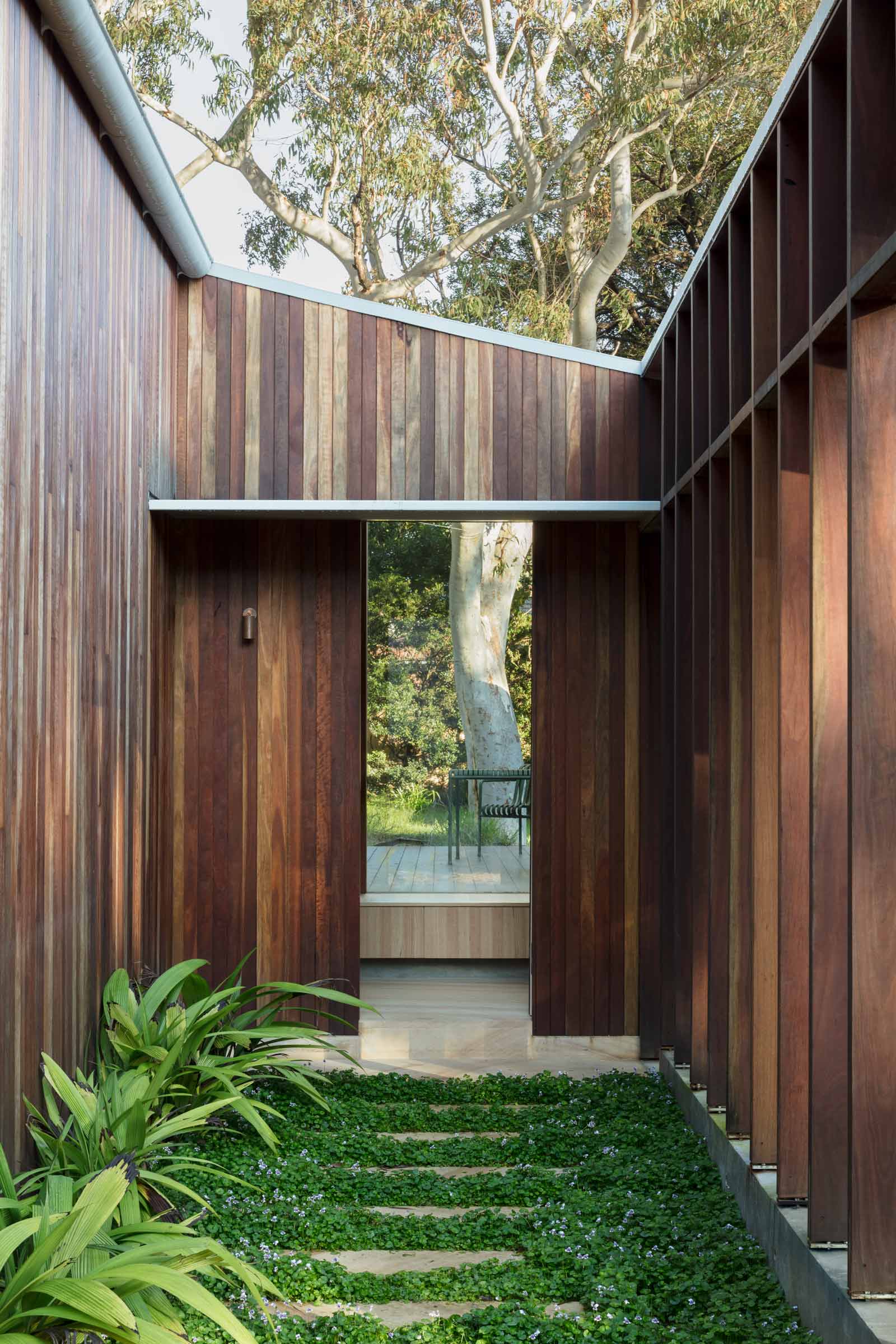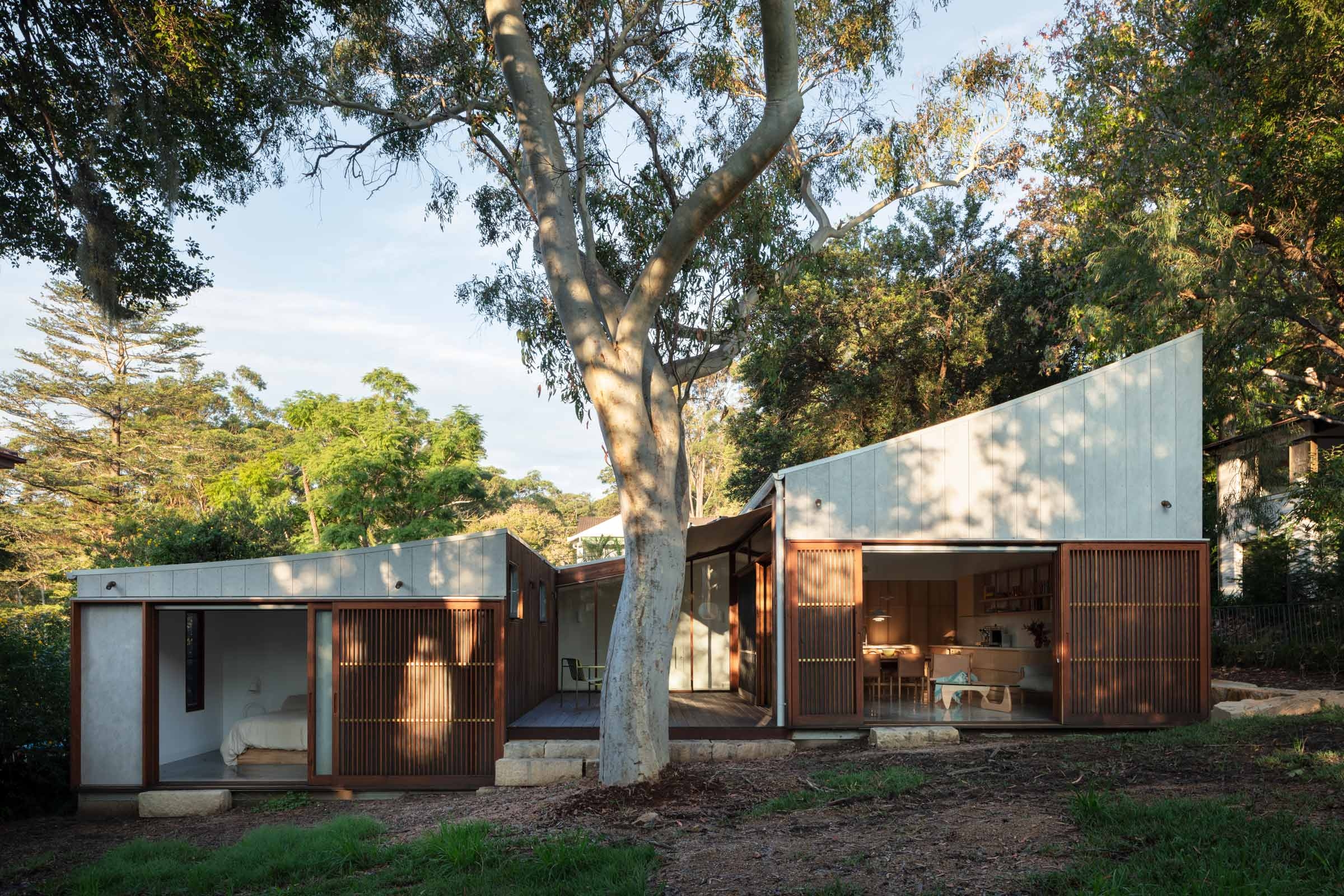 1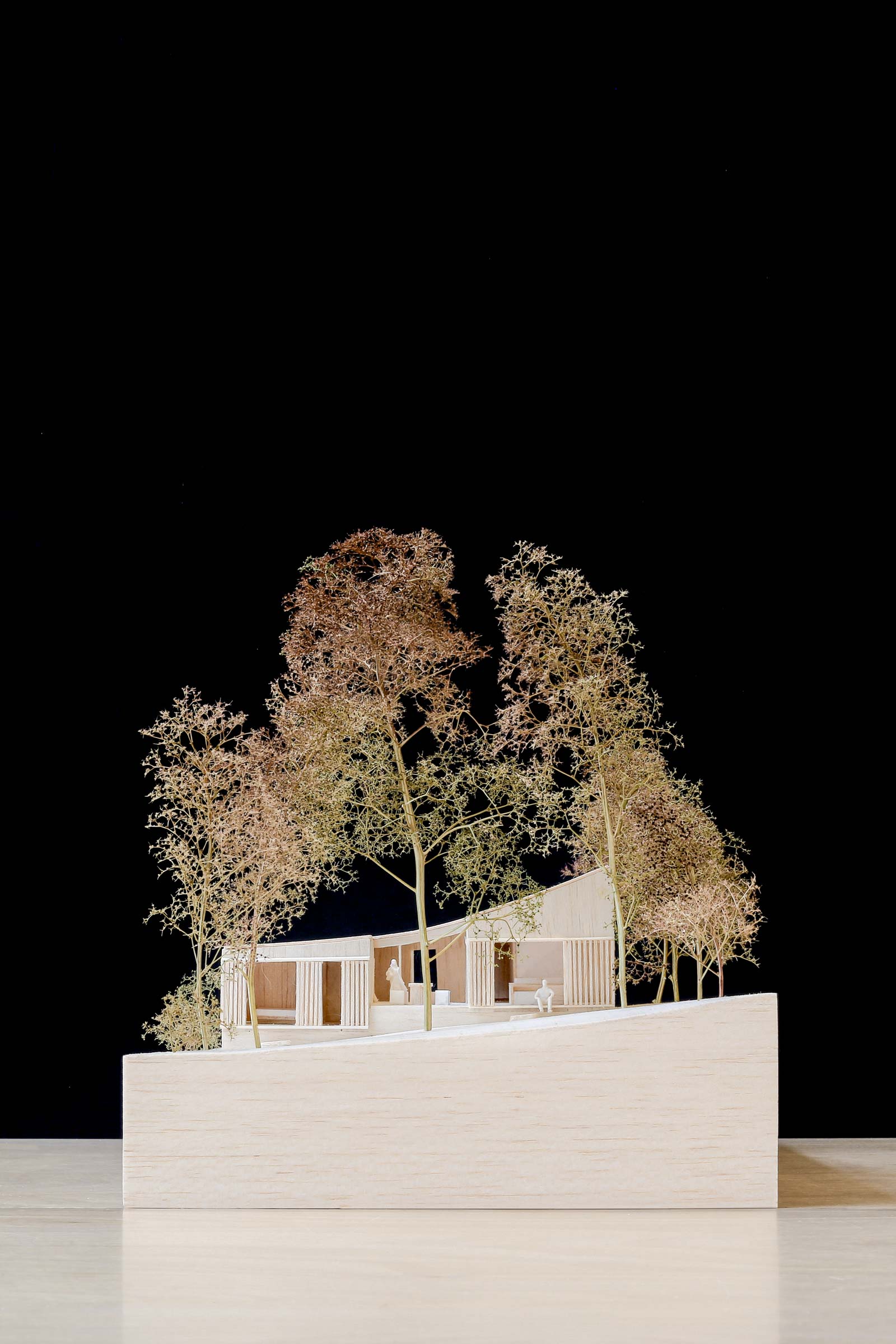 2
Importantly, Draped House employs passive and active sustainable design strategies to reduce its carbon footprint. All rooms enjoy ample natural light and good cross-ventilation, with the living room receiving prime northern sun. Stack ventilation is also mobilised, with high, south-facing openings exhaling warm air.
The design employs thermal mass on its floor to help stabilise year-round temperatures. In summer, this mass is shaded by eaves and an external shade cloth, while in winter, lower sun can enter over the building to warm the slab.
Each façade of the building is designed to suit its orientation, with timber screens to the west mitigating fierce heat and glare. Ceiling fans assist with air movement and, together, these strategies create temperate thermal comfort without the need for air conditioning. The roof also collects 10,000L of rainwater, which is reused in the garden, toilets and laundry.
Draped House is an all-electric home, a commitment which ensures it will be operationally carbon neutral. There is no gas connection to the site; hot water is supplied via an electric air-sourced heat pump and the roof contains over 5kW of solar panels. Cooking is via an efficient electric induction stove and the carport has been hardwired for battery storage. Recycled timbers are used for the doors and windows and the timber cladding is an Australian hardwood.
The quiet innovation of Draped House extends to its planning approach. The design uses the Complying Development pathway, a process that ordinarily produces project homes. In this sense, Draped House is envisaged as a prototype for how we could design our suburbs differently, returning to more attainable form of residential architecture.
Draped House reminds us that the suburban home doesn't need to extend to its lot's limits, nor be built to meet conventions. In fact, a small and site-specific house, surrounded by a garden, can be far more compelling.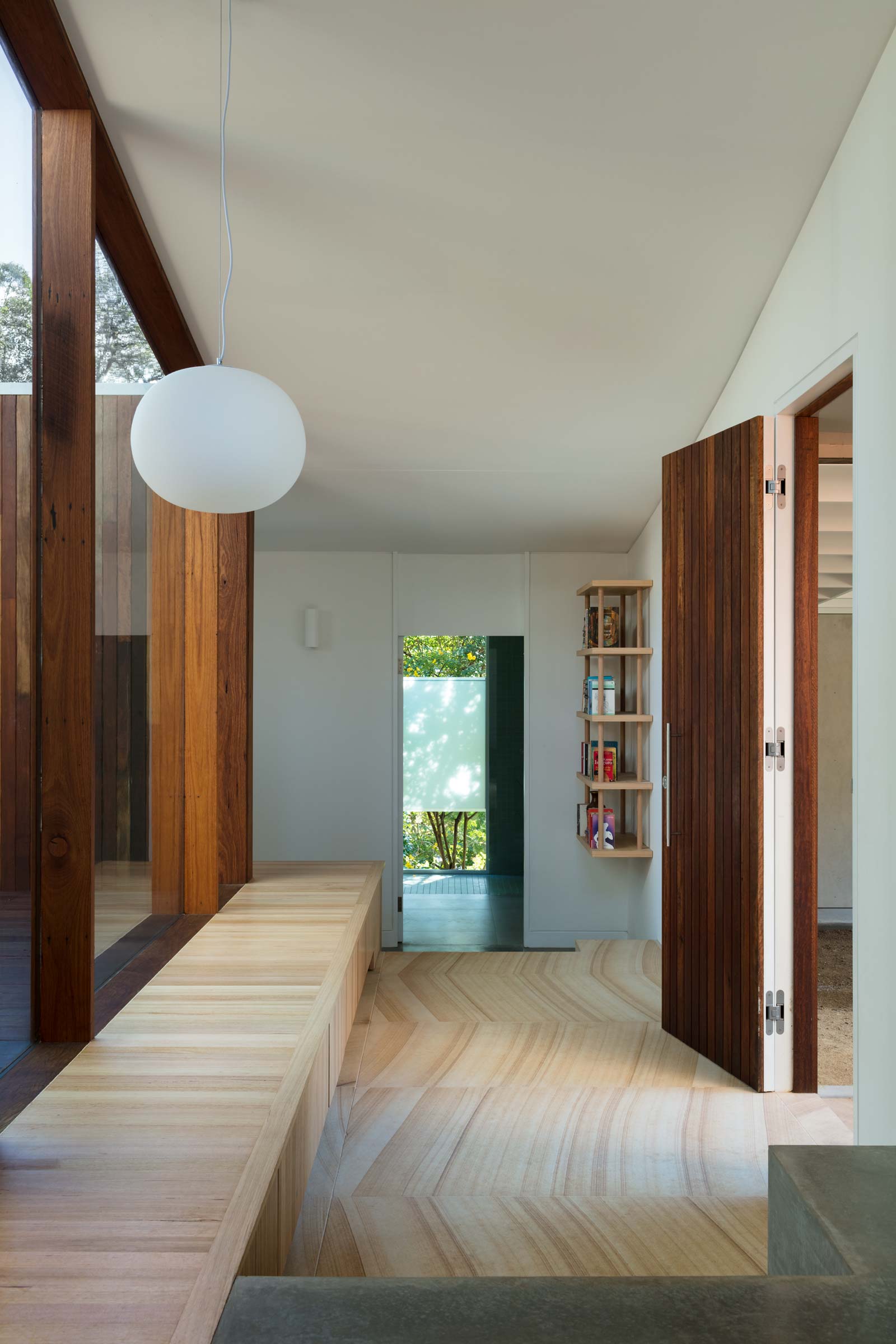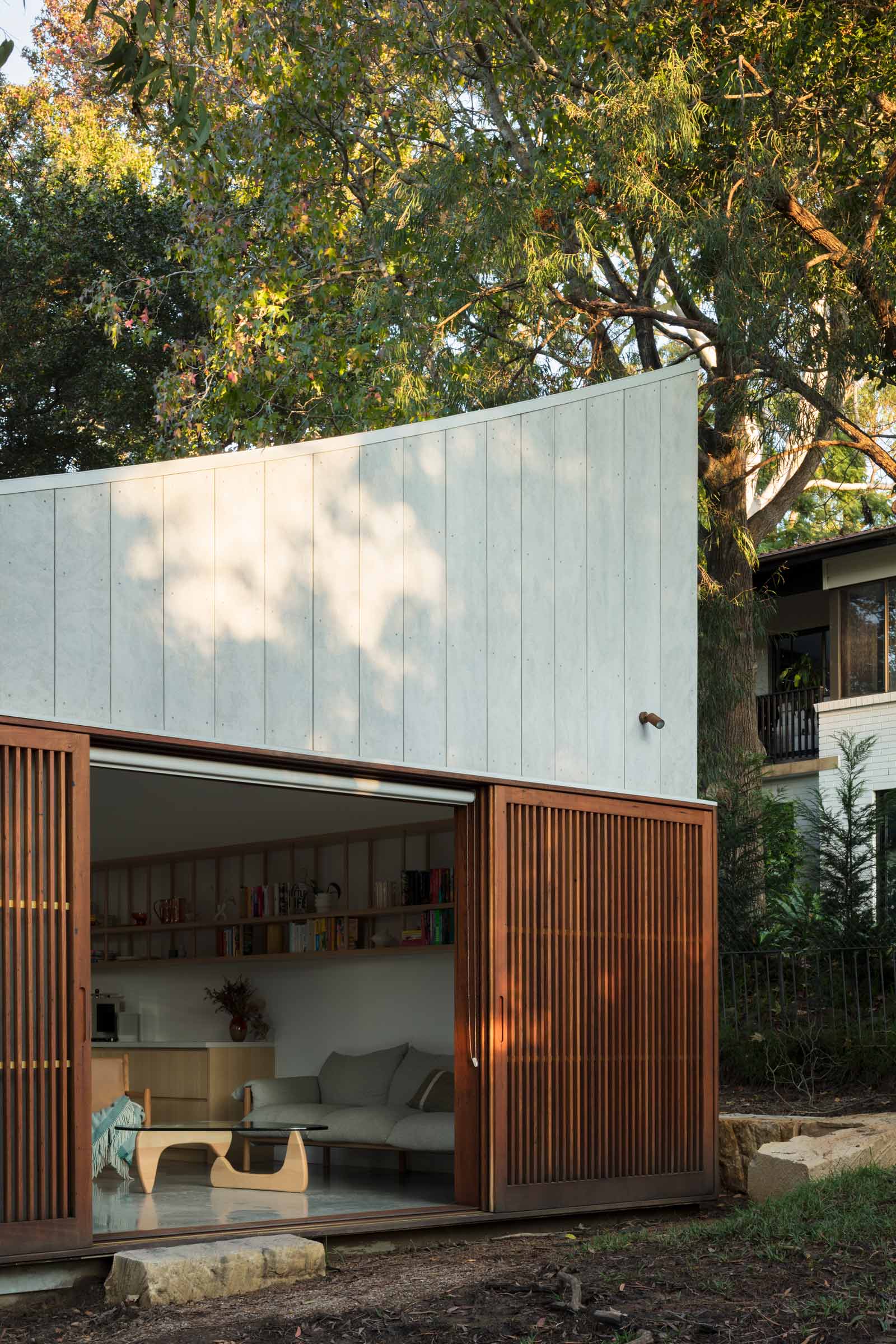 1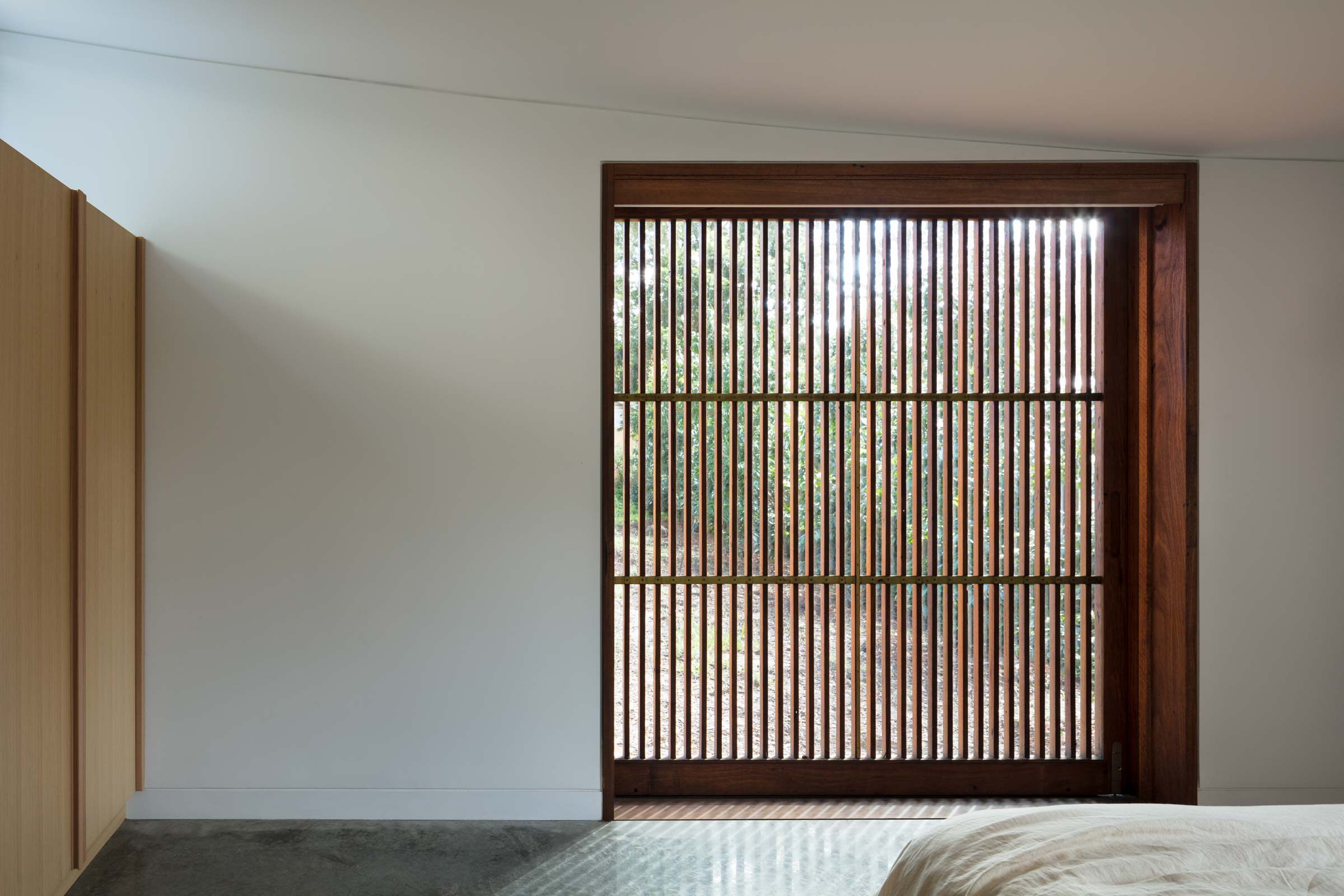 2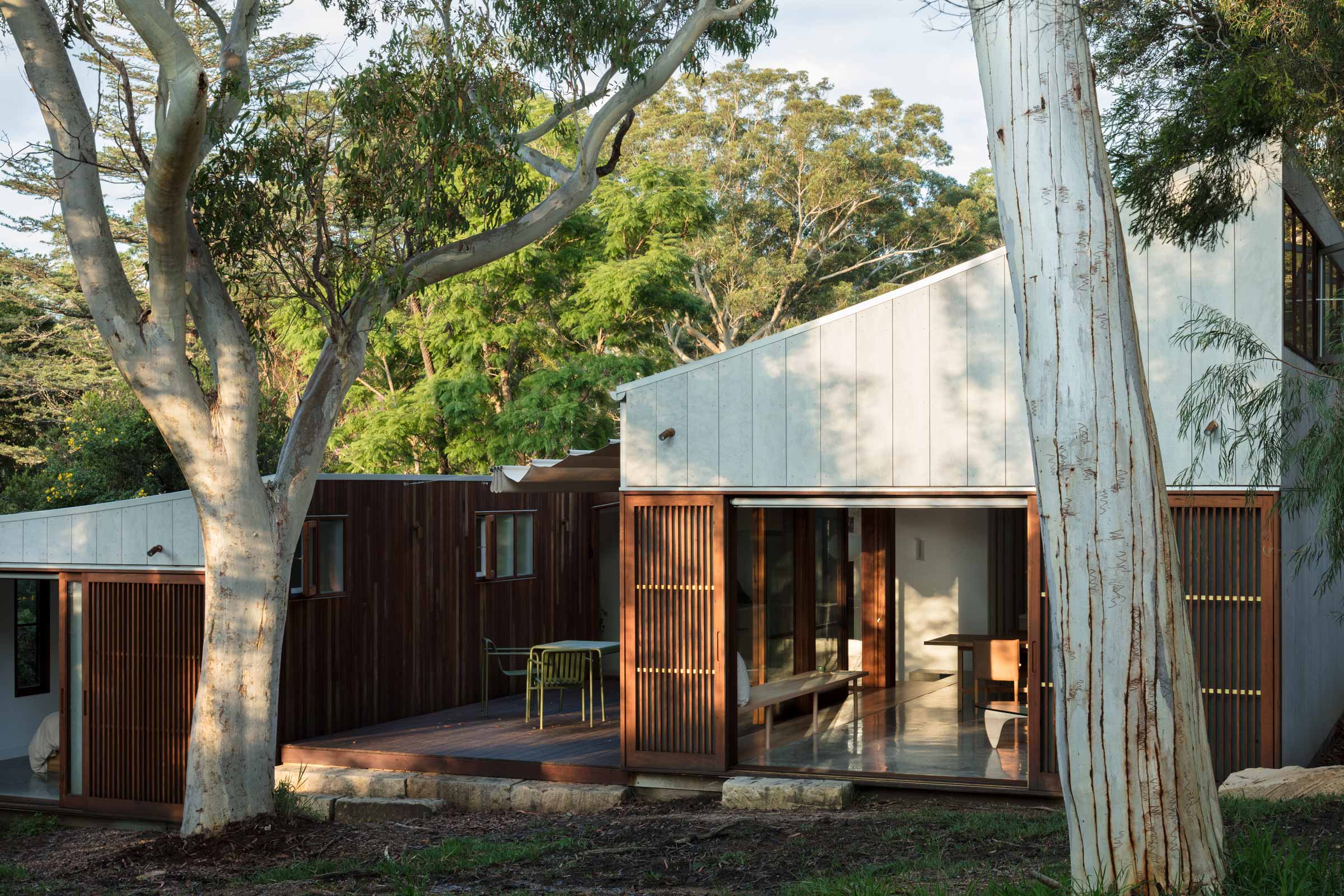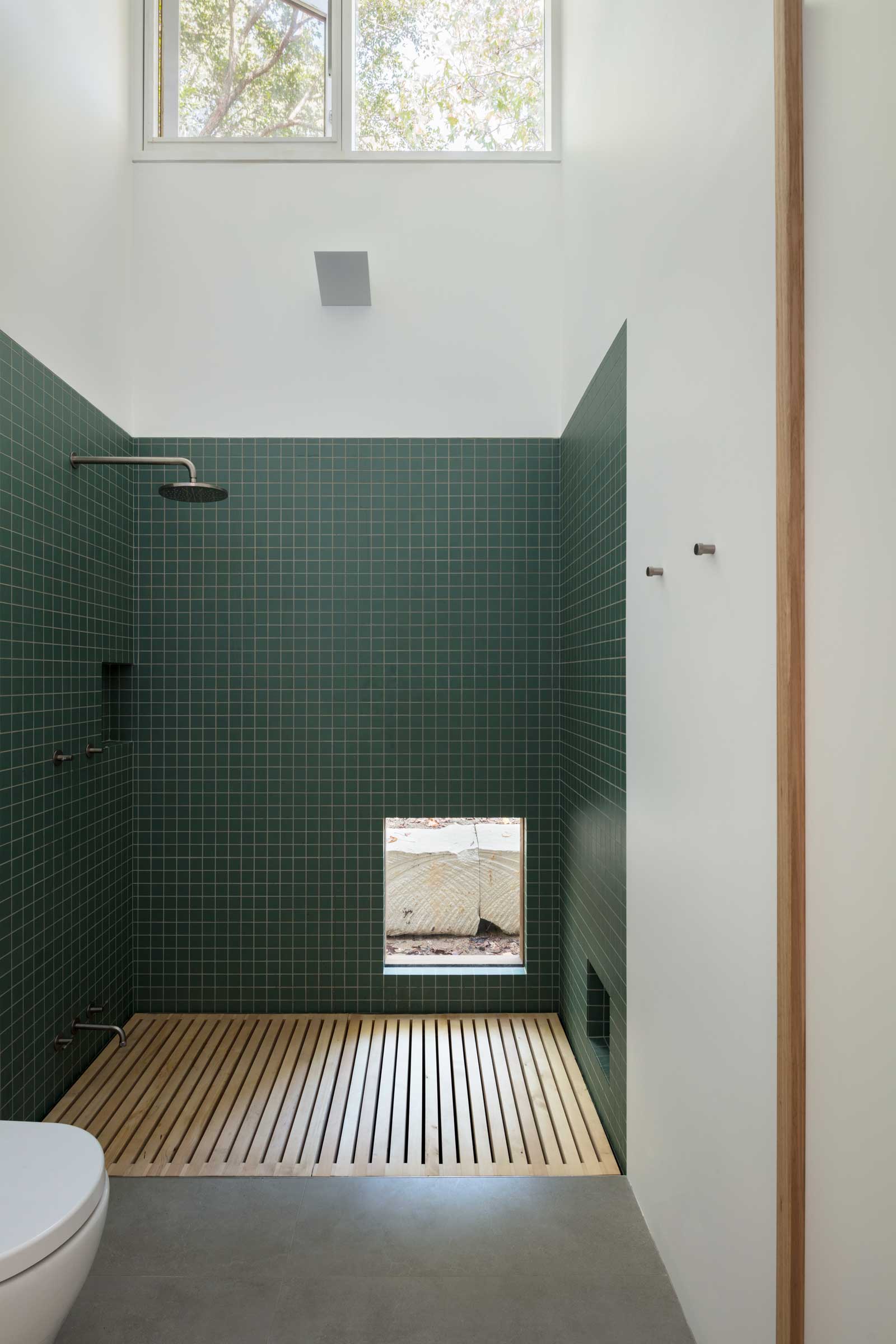 1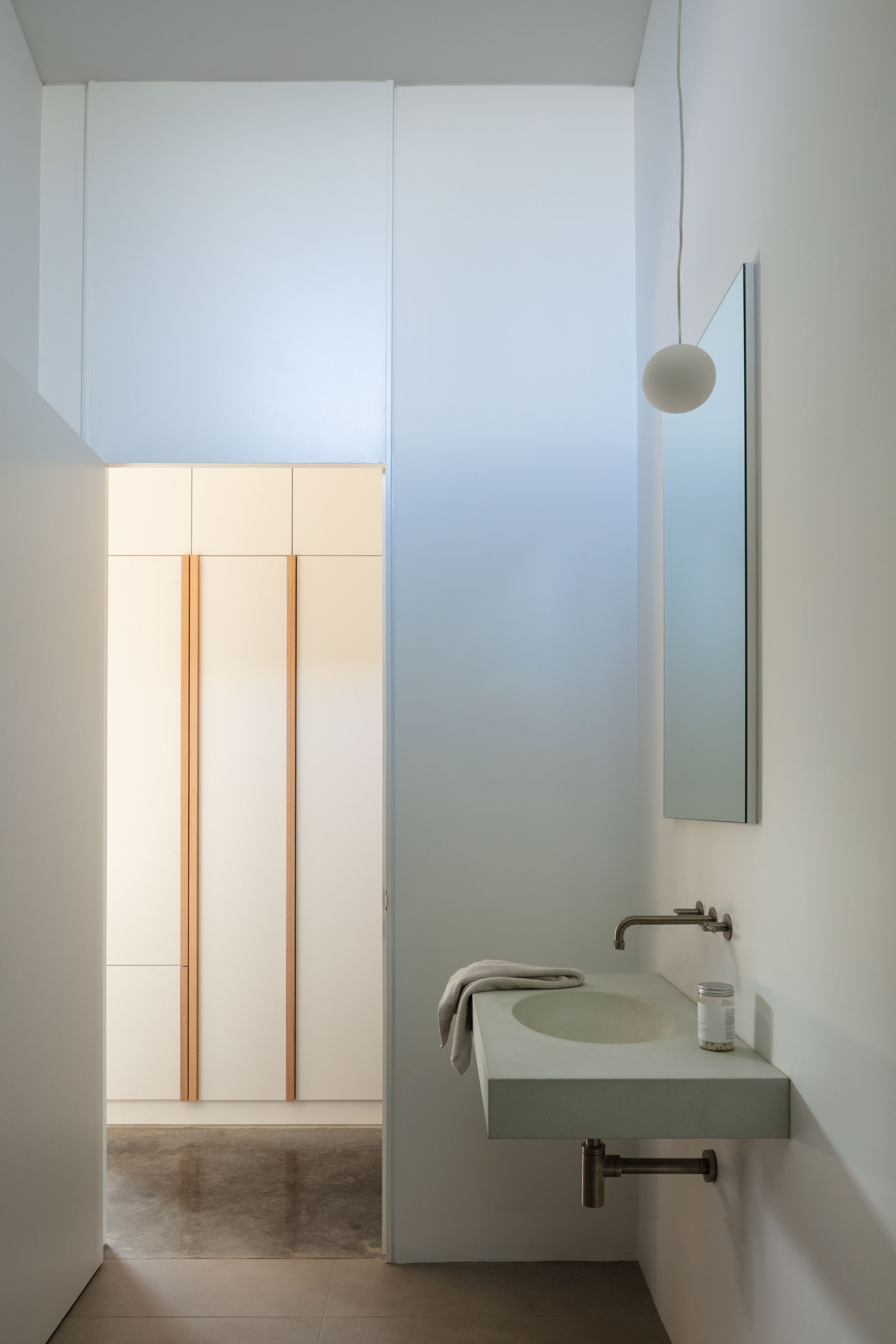 2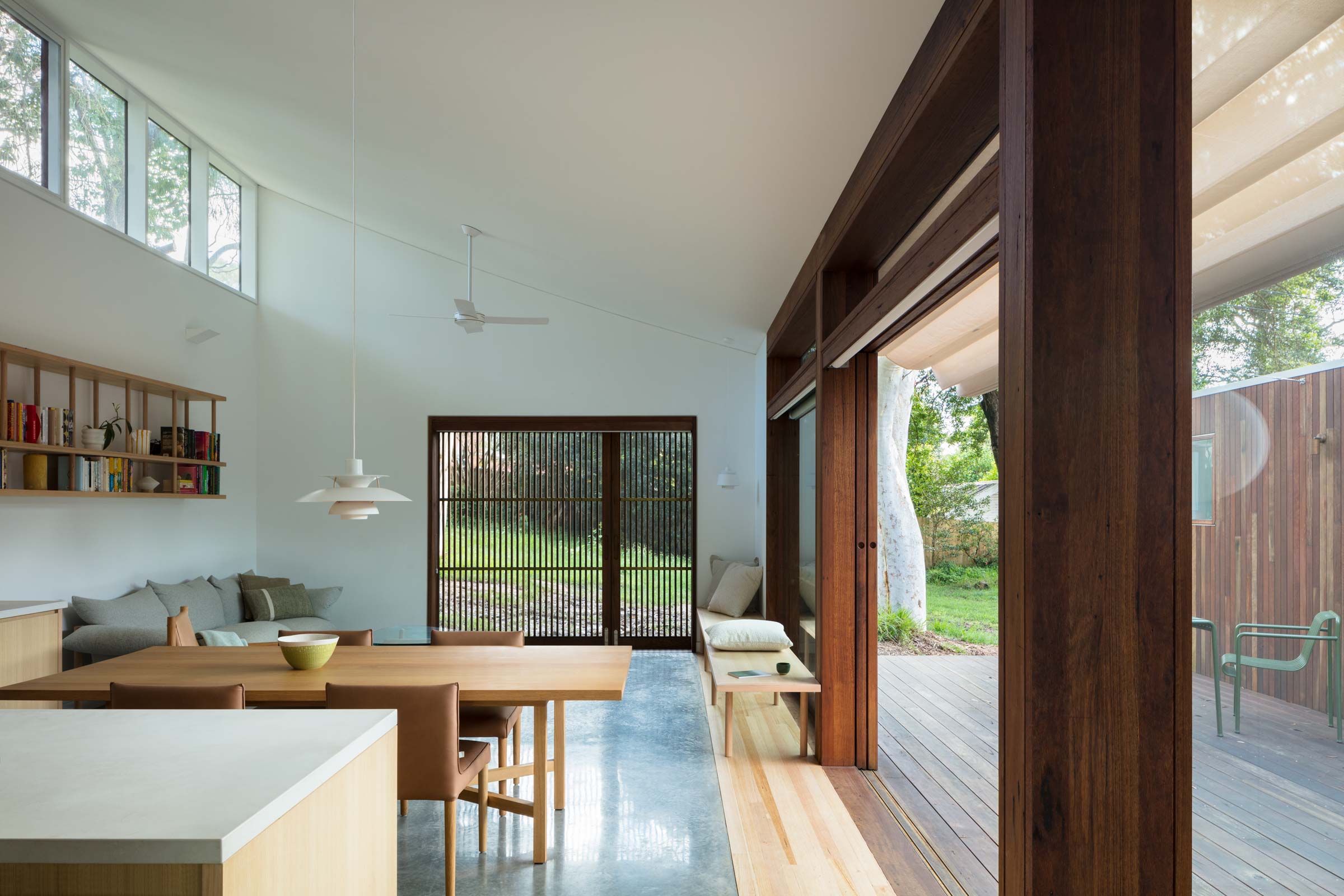 1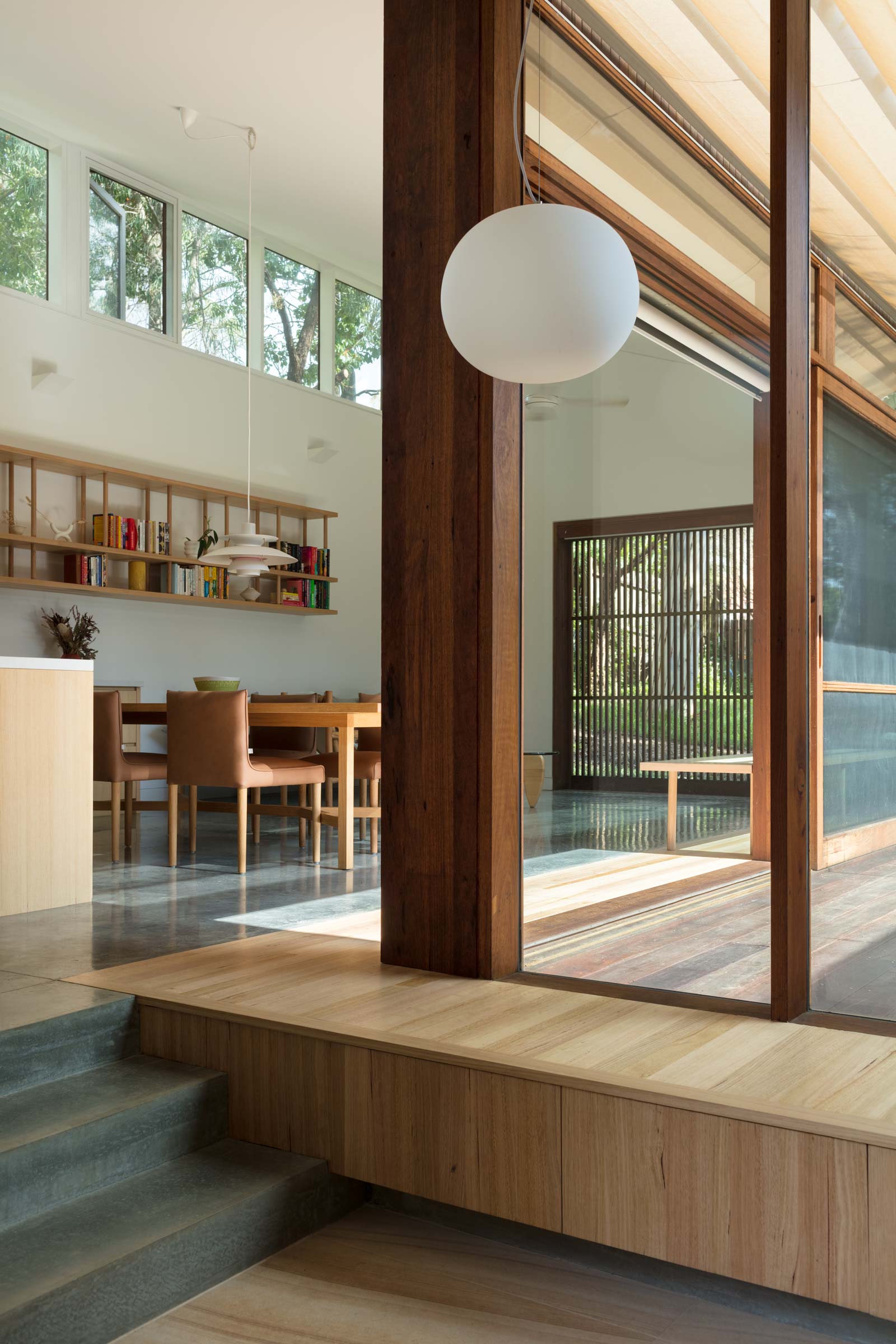 2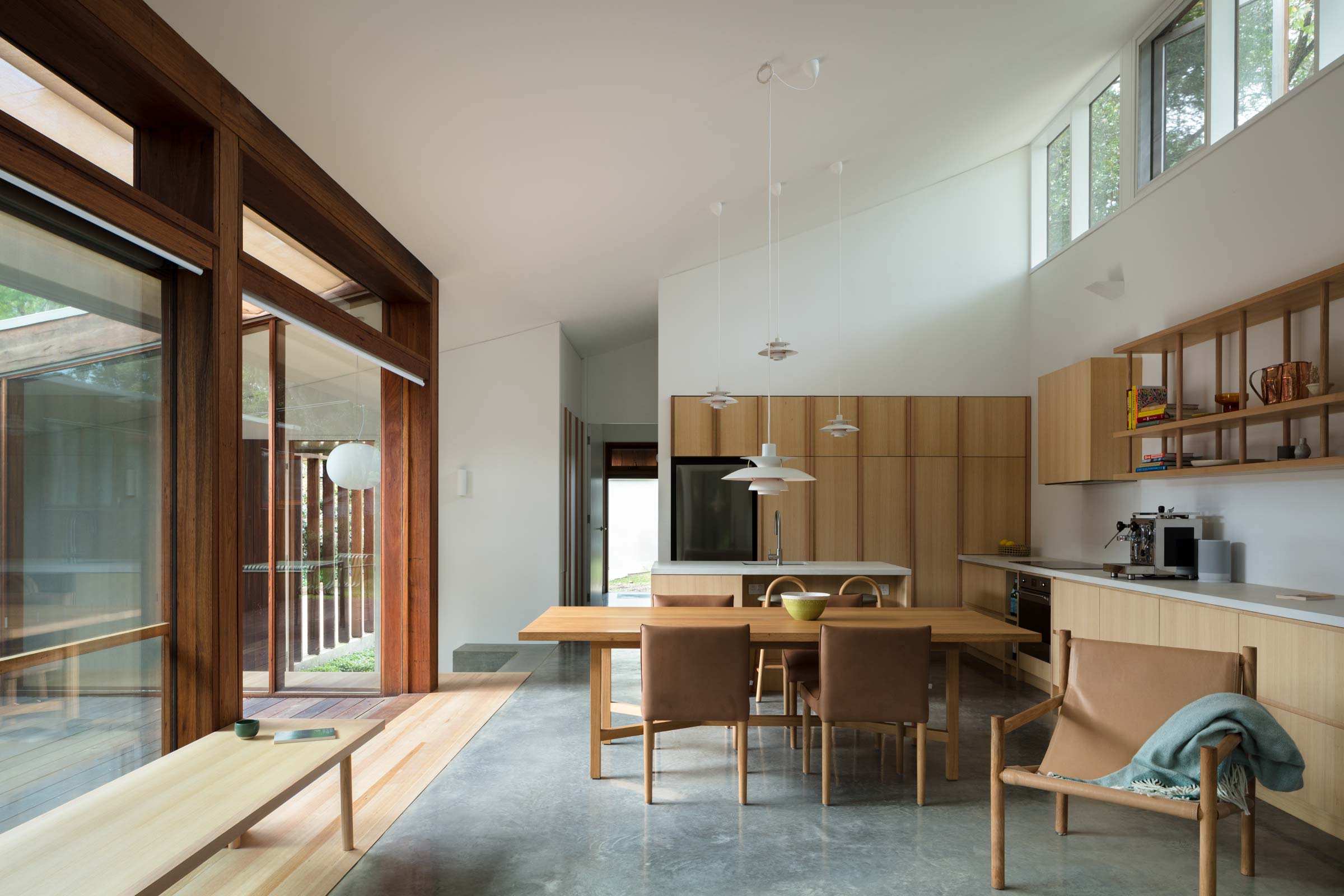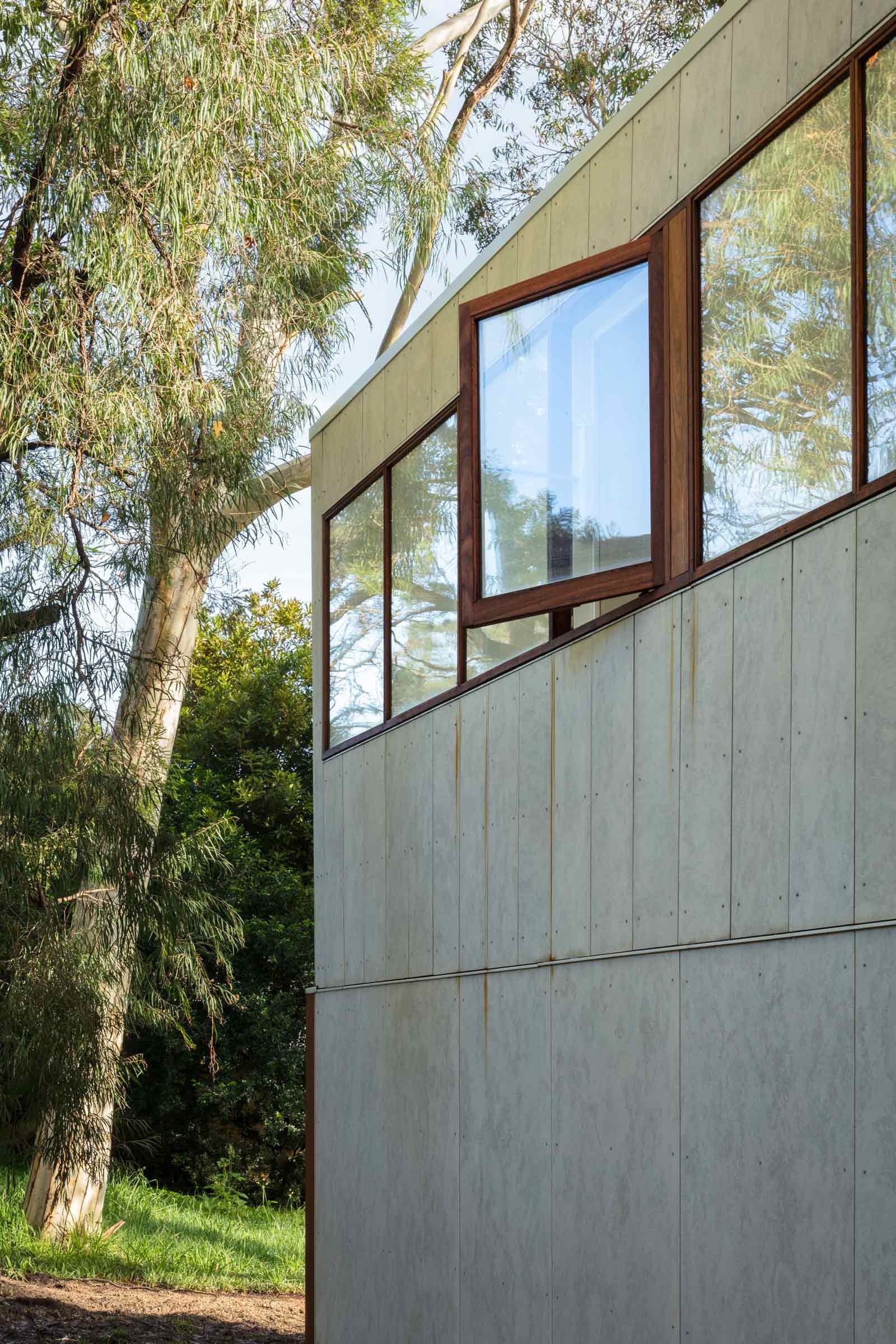 1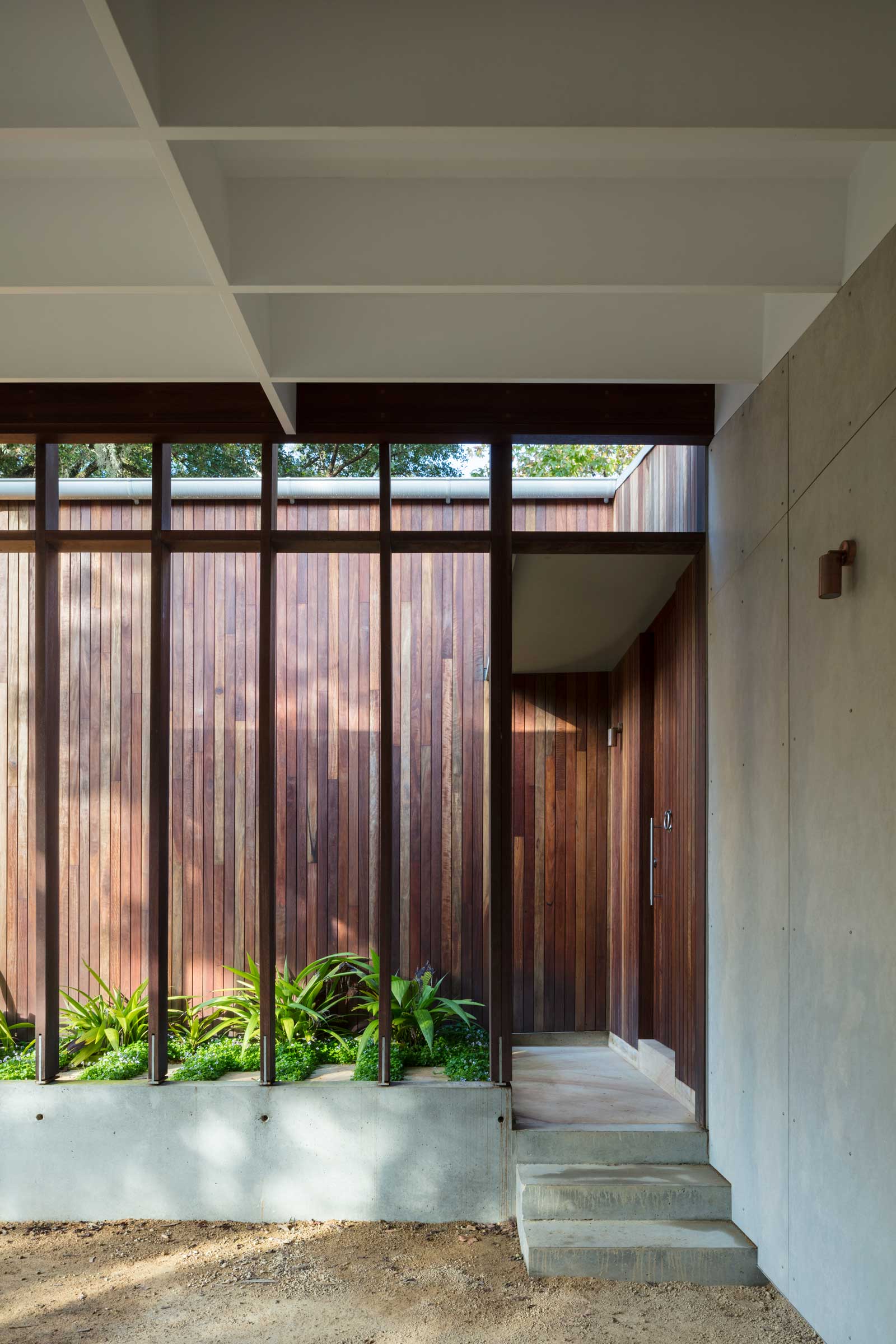 2