Hidden Garden House
Hidden Garden House is a terrace renovation, built on a small 45sqm site in Sydney's Darlinghurst. Our clients, Laura and Aman, are creatives who are drawn to Japanese architecture and design. In their life, and in their own design practices, they prioritise simplicity, quality and craft. When we first met, were all drawn to Dieter Rams' aphorism "less but better" and resolved to create a home that would embody this ideal.
Their brief asked for an improved one bedroom, one bathroom home. As is common with old terraces, they sought more natural light, better airflow, and privacy. They also wished for a garden; a green oasis that would provide peace and respite within the dense inner city.
The idea of a 'hidden garden' was inspired by Japanese temples, whose gardens provide unexpected and welcome sanctuary. This is especially true within cities, which are thrumming with life and endless stimuli. To go home is to find a moment of solitude, rest and quiet, and that is what was sought here.
We were also influenced by aspects of Japanese culture that apply care and dignity to domestic rituals. We wanted to find a similar sensibility , whereby the rhythms of daily life – bathing, cooking, reading and resting – would feel thoughtful, calm and restorative. This resulted in a highly unique home that sheds many conventions but perfectly reflects its owners.
Our architectural response carves a courtyard from the site, welcoming light and air into the depths of the terrace.  The project approach took courage from our clients, who lessened their internal floor space. What they gained instead was a vastly improved home, which is bright, welcoming and breathable; true proof that less can be more.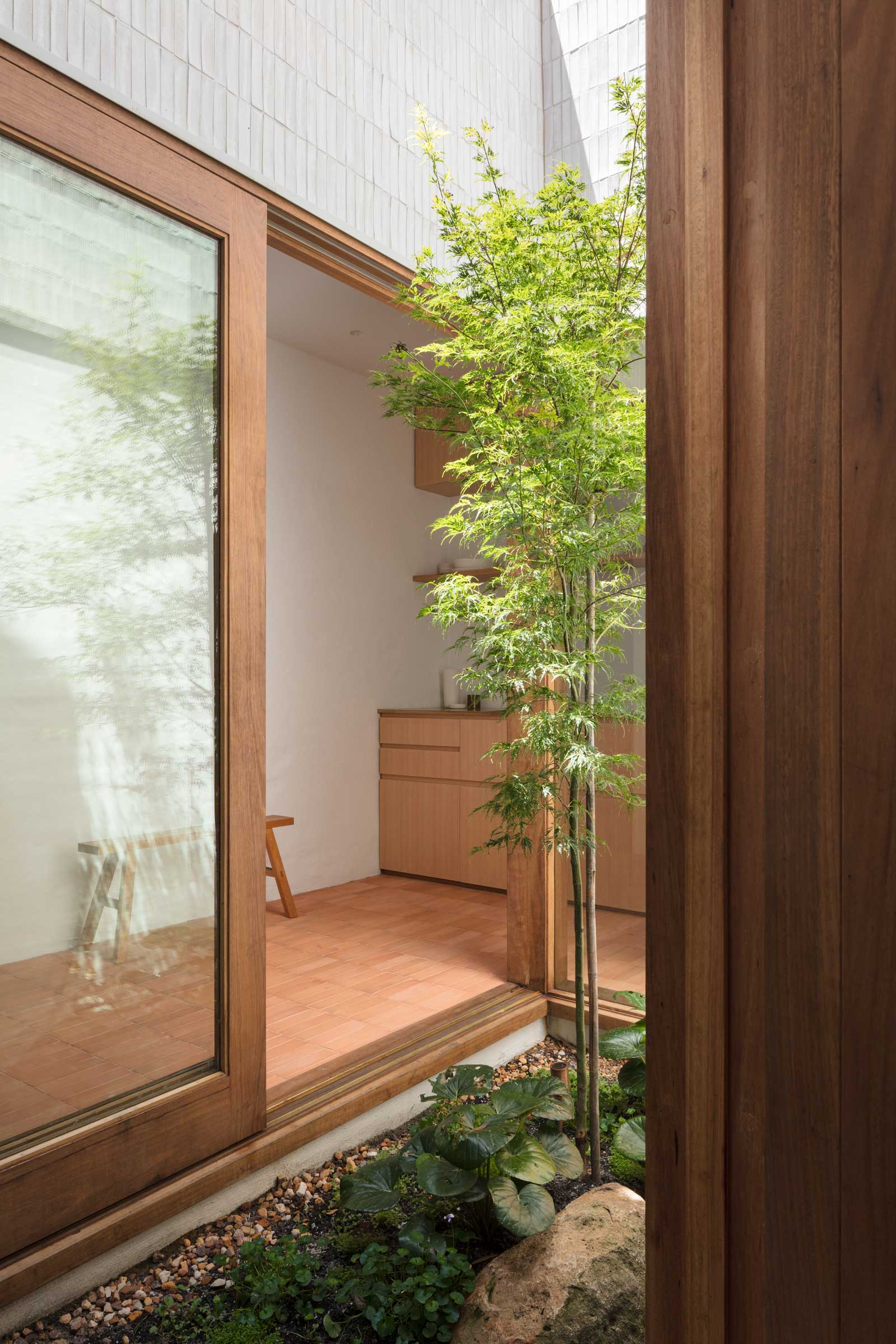 Type

Location

Client

Status

Completion

Builder

Engineer

Interior Design

Landscape Design

Tiles & Hardware

Photographer

Recognition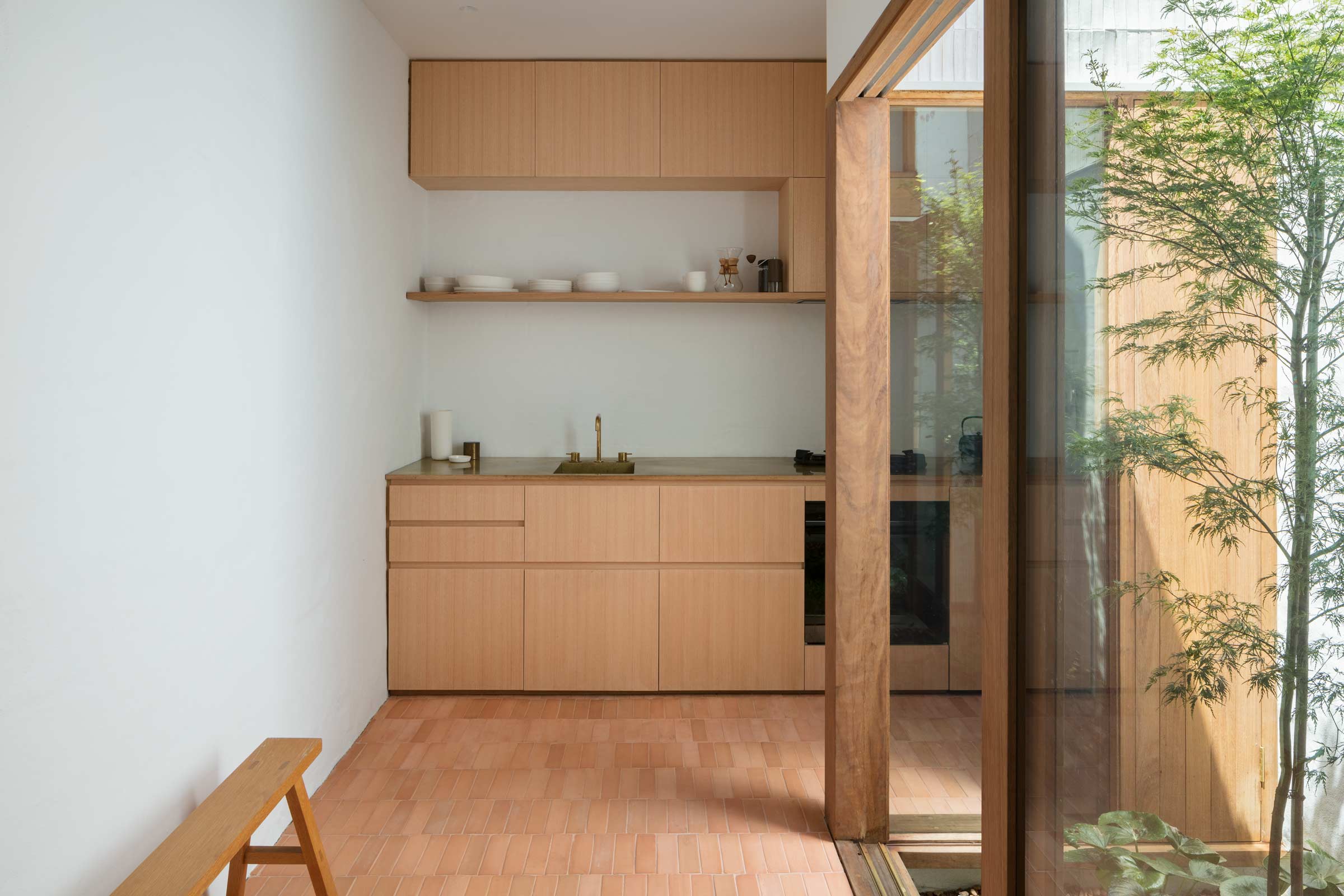 The new courtyard also helps untangle the floor plan. Downstairs now contains the main living, cooking, and eating spaces, while sleeping and bathing reside upstairs. The stair sleeves along the eastern boundary, holding storage and a laundry. The spaces are simple and minimal, but so are our clients, who relish living in a stripped-back space.
The ground floor contains several stepped thresholds, providing ledges to perch and rest on. Openings slide or pivot open, bringing the outside in and extending the home into the garden.
Upstairs, the bedroom and bathroom become a single room. In defiance of conventional planning, spaces are separated with timber-lined 'blocks' rather than walls. The bathroom ritualises washing and bathing, with delightful glimpses of the roof garden seen from the shower. A rambling green roof crowns the lower extension, providing the neighbourhood with green outlook and welcoming birds and bees. With time, the garden has grown tall and dense, providing a pocket of something wild within an otherwise cultivated home.
This house has a distinctive hand-hewn quality, made possible by the inputs of a talented project team. At our first design meeting we suggested to Laura, who is a ceramicist, that she might like to produce some ceramics for the home. Remarkably, she began prototyping tiles for the downstairs extension. The terracotta floor tiles, and the glimmering white tiles that rim the lightwell, now showcase her idiosyncratic handiwork. The terracotta has an earthy and organic quality, complimenting the nearby timbers, while the glazed white tiles bounce light into the home.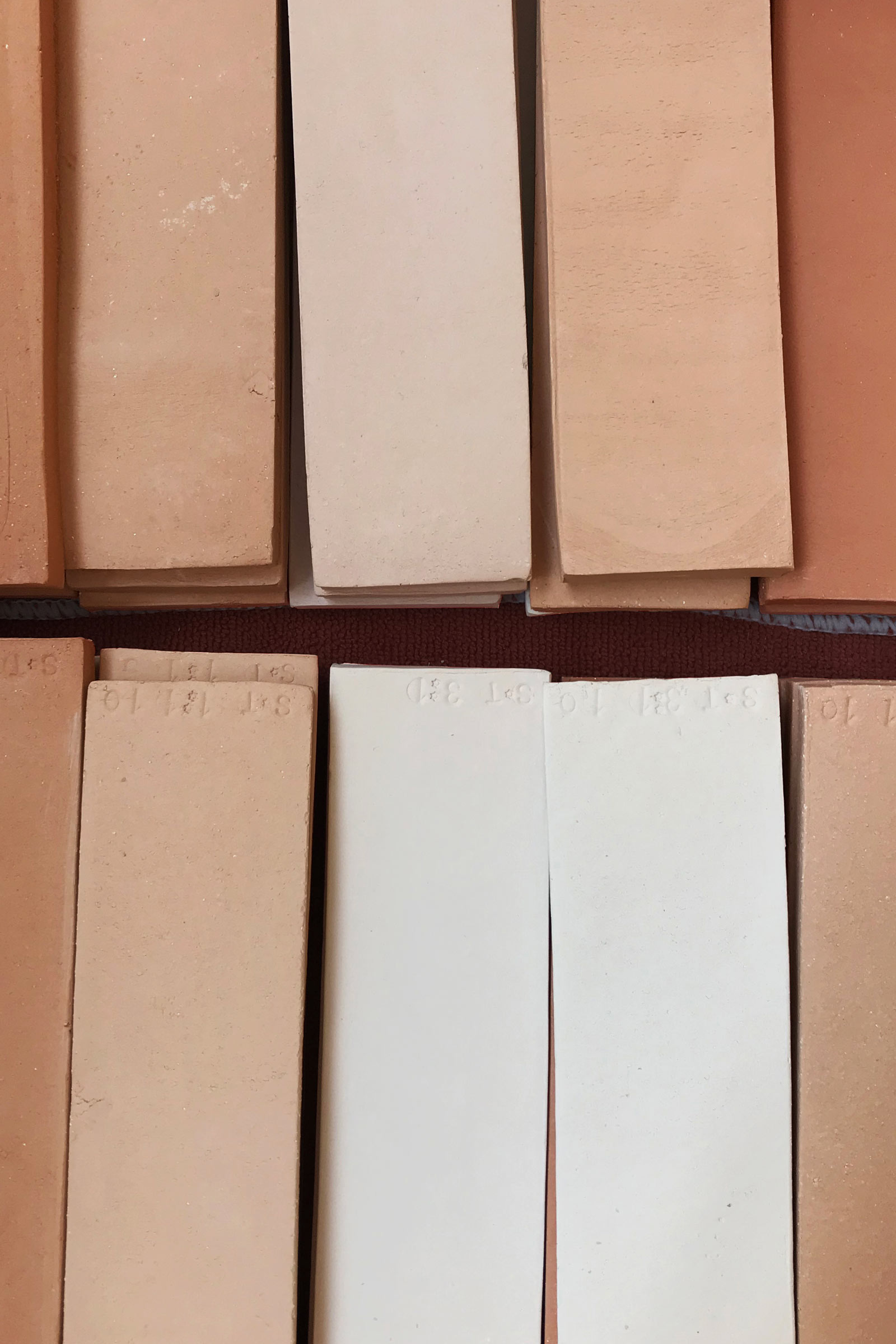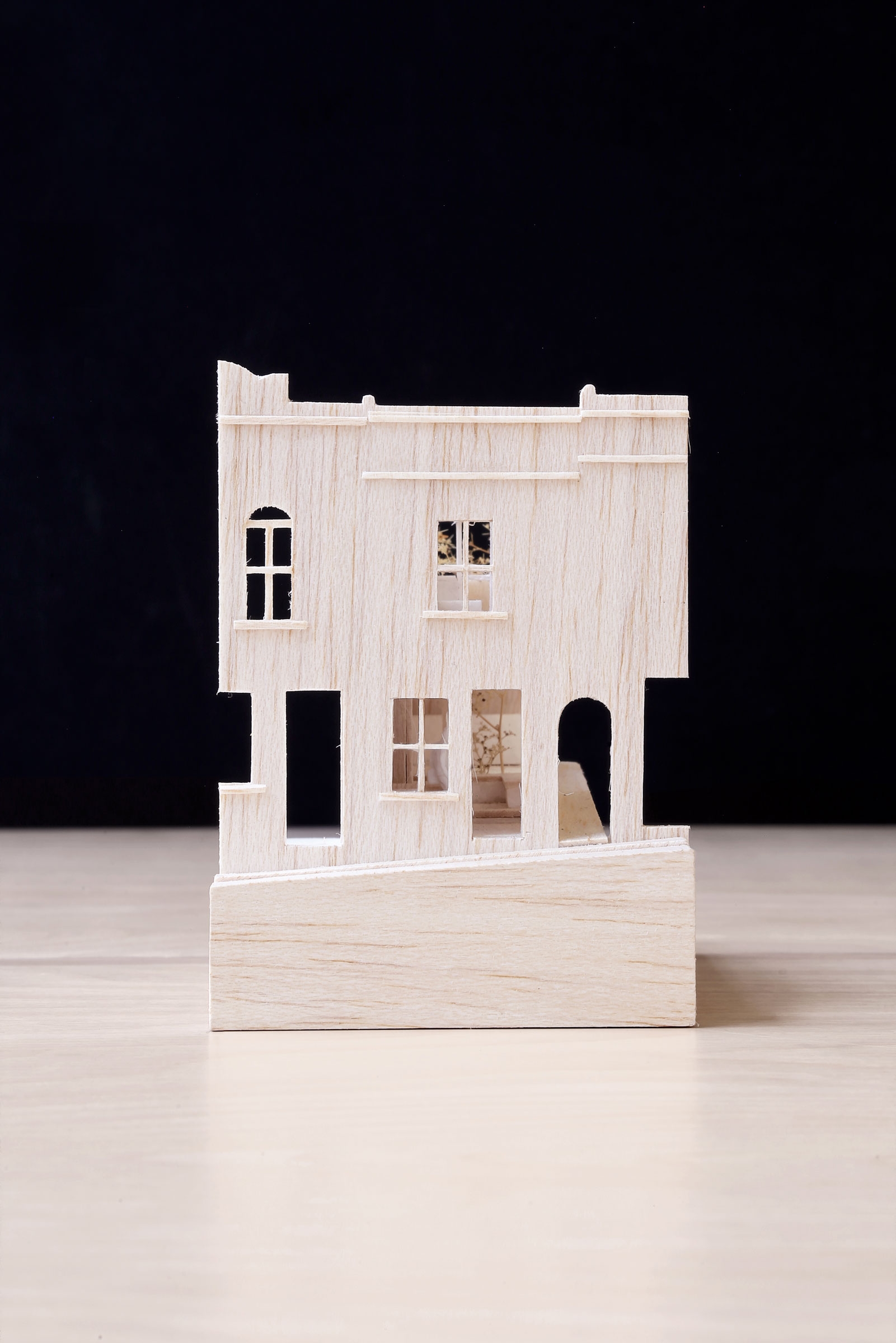 1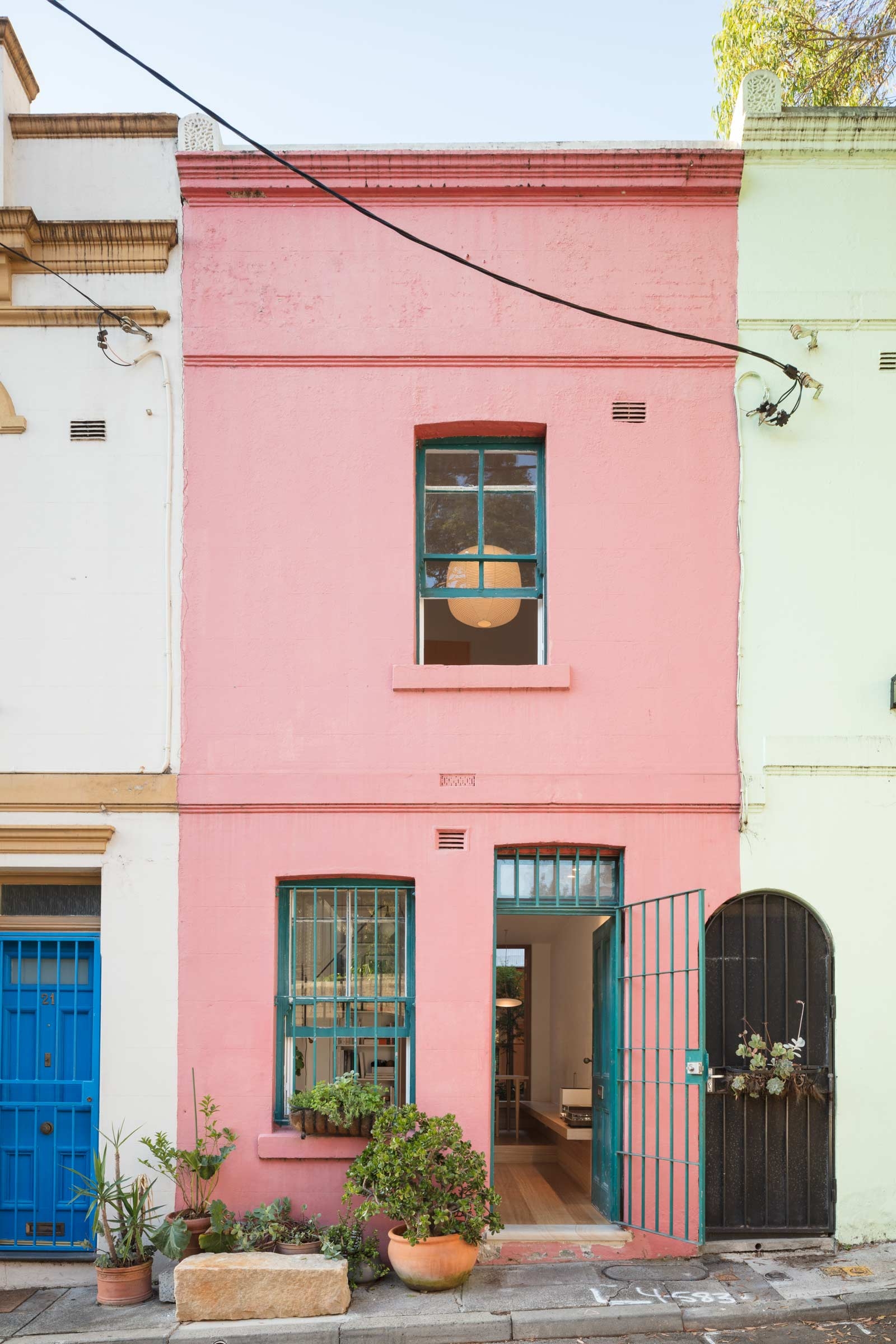 2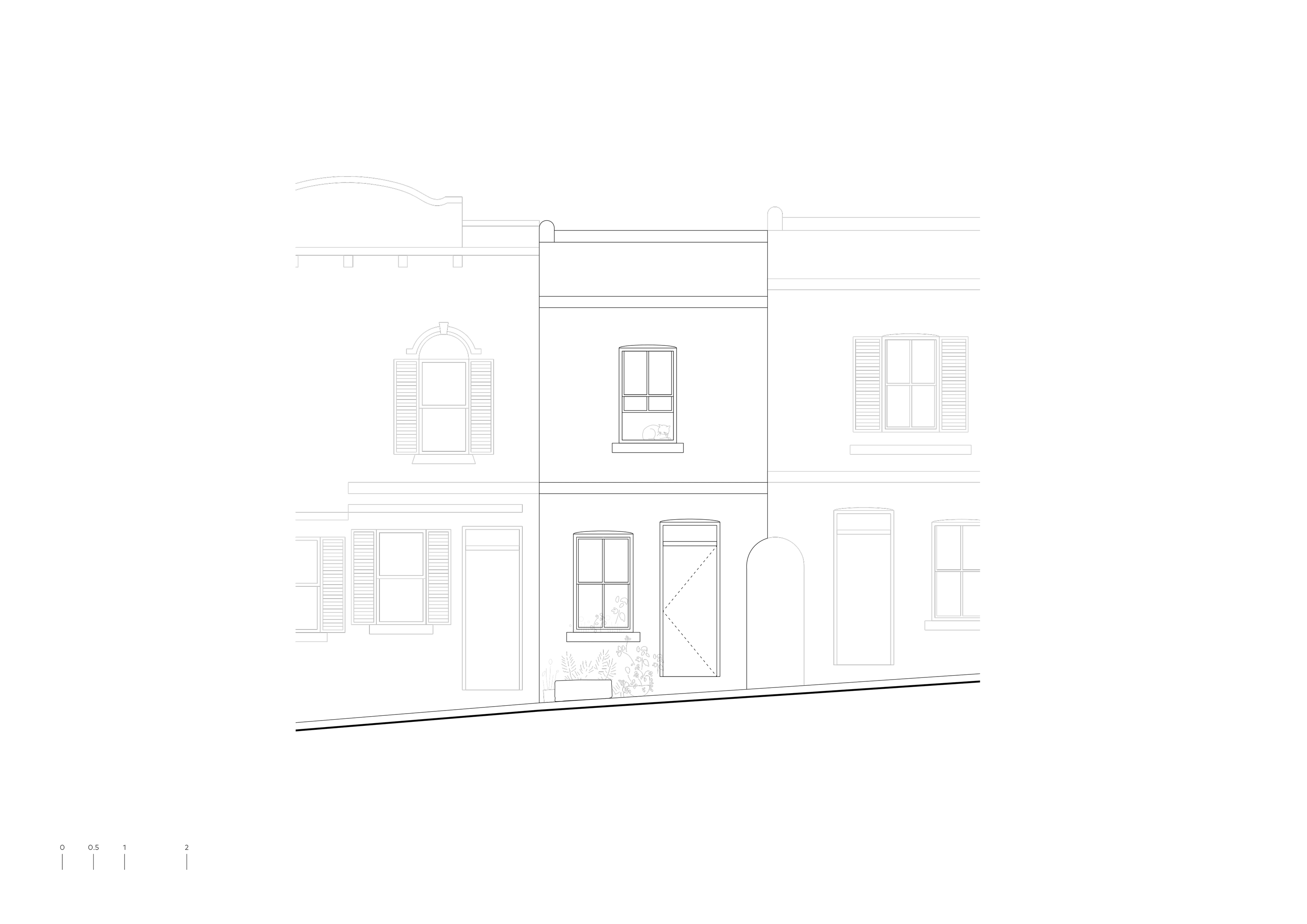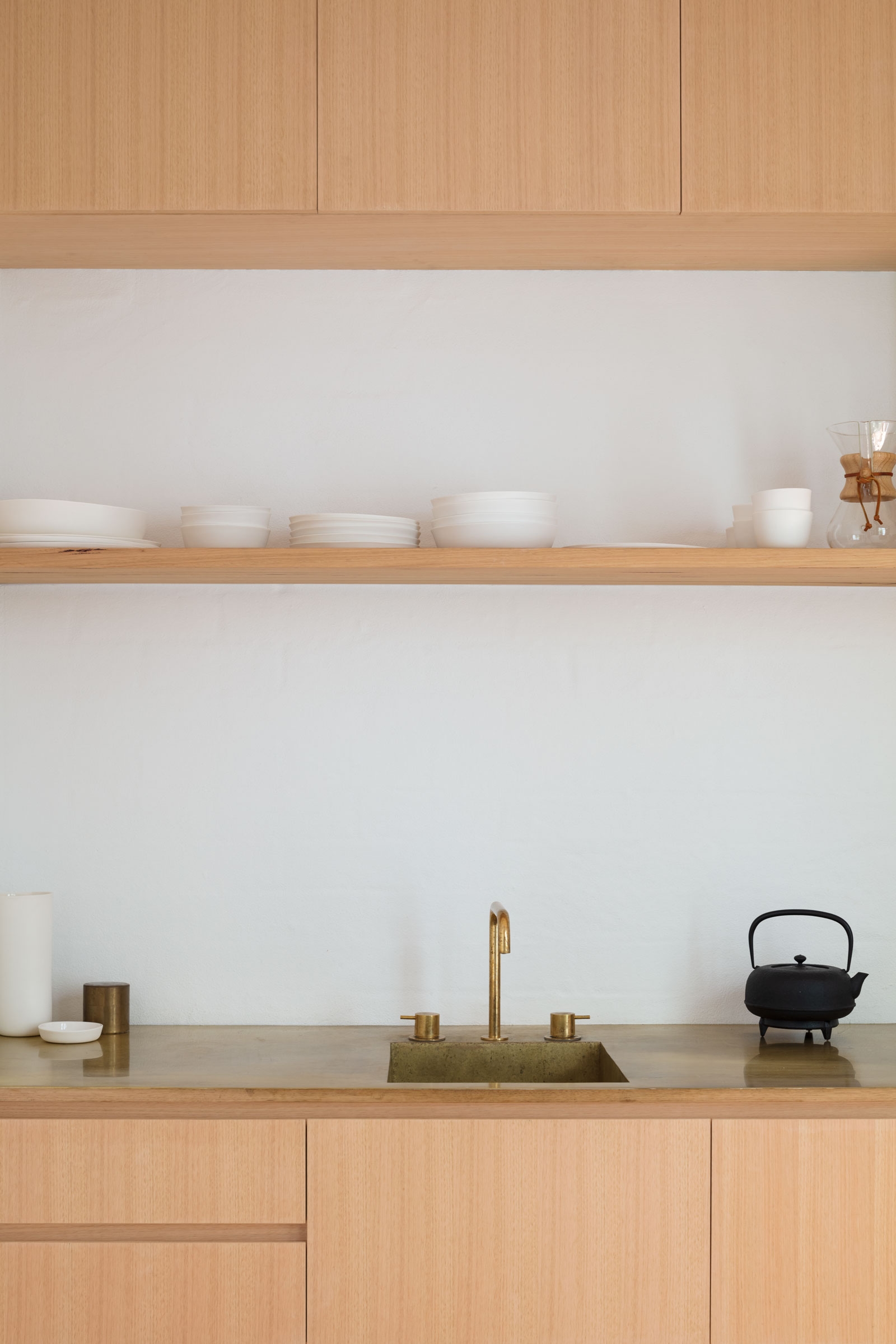 1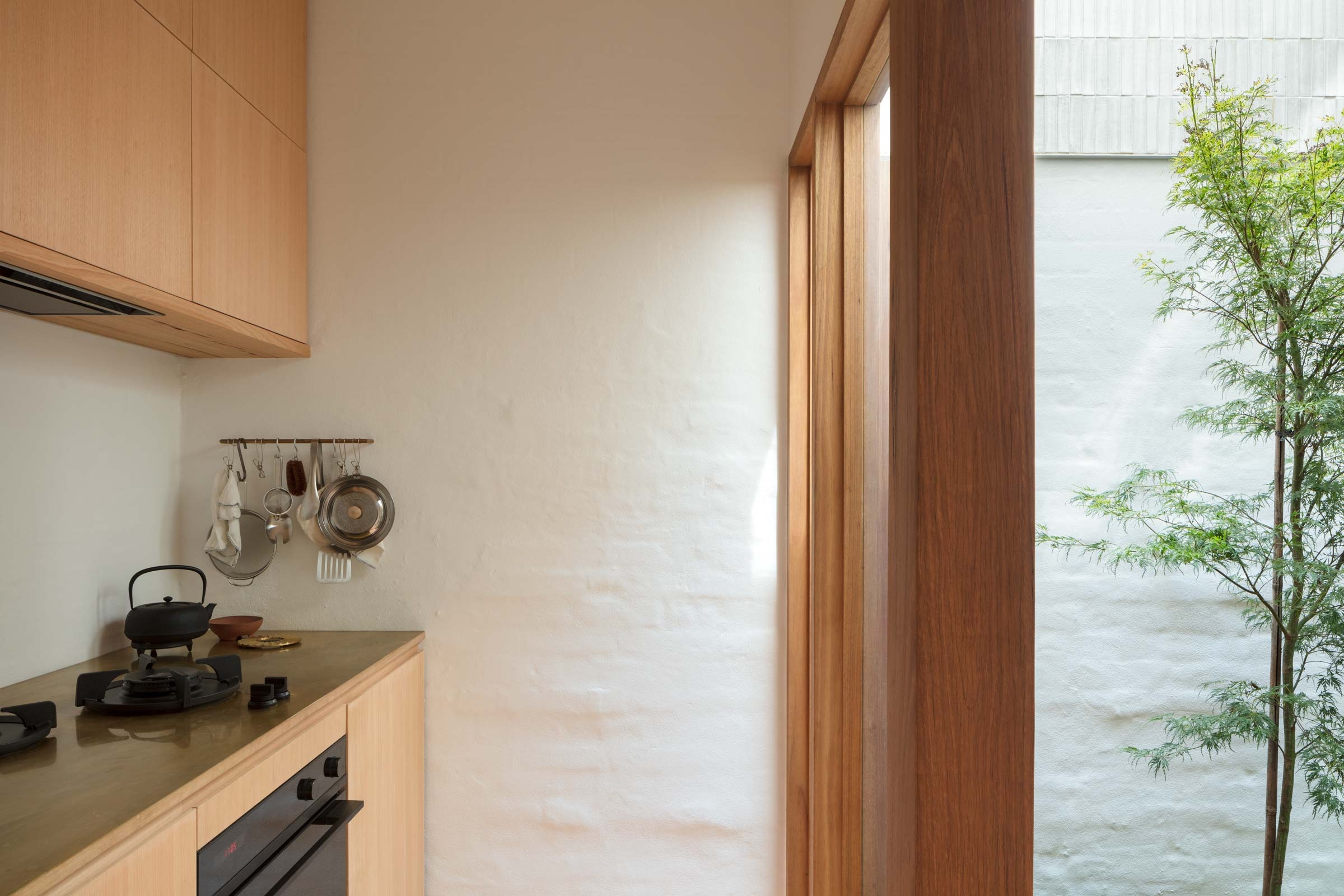 2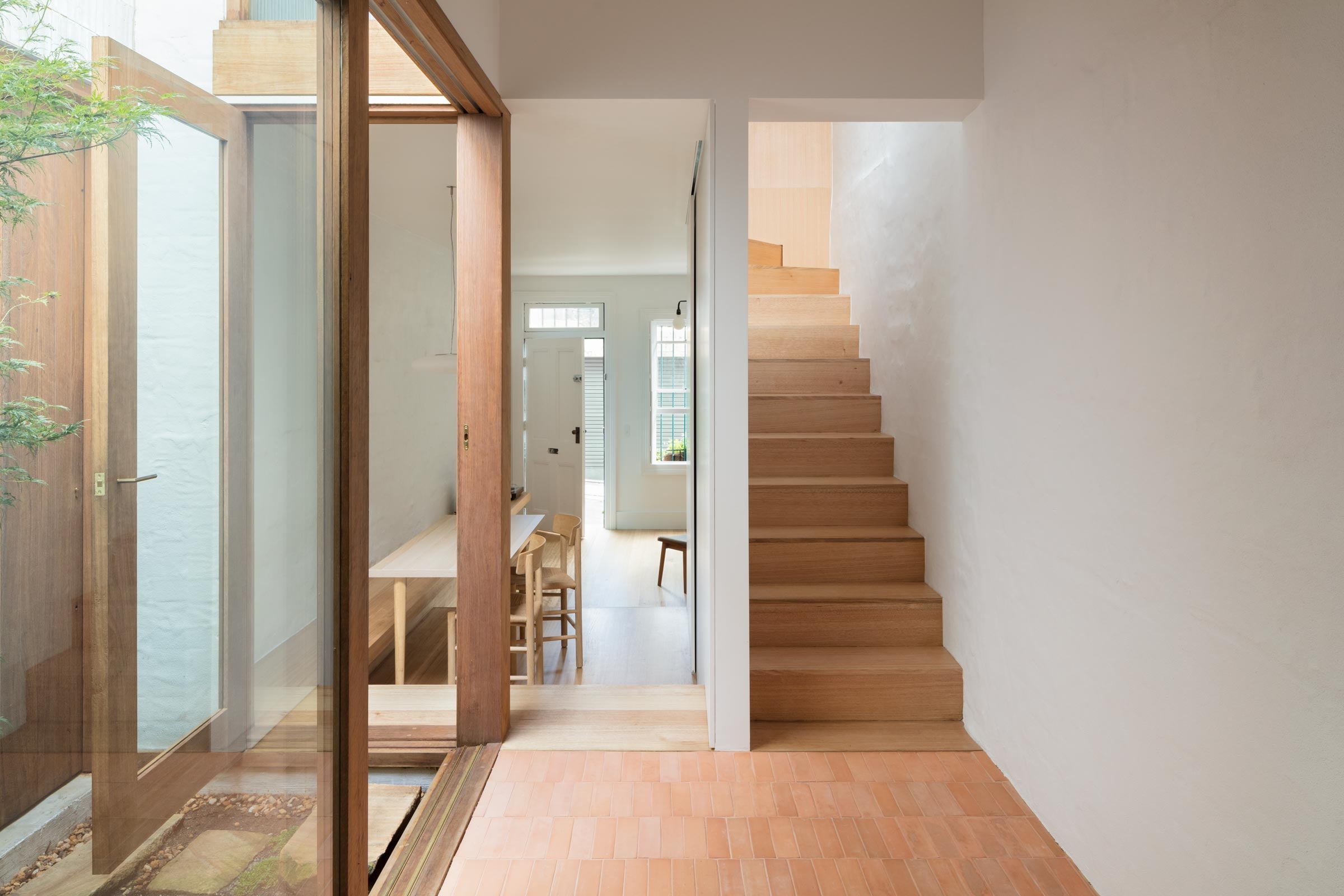 Elsewhere, the materials are simple and calm, tending towards texture and tactility. Bagged brickwork reveals the heritage bones and sits in counterpoint to clean and crisp cabinetry. These base materials provide a backdrop for the more haptic finishes—such as a folded brass benchtop, and the ceramic tiles – to reveal their character and charm. Patina and weathering are celebrated, as is the growing garden.
Throughout construction, we spoke of Alvar Aalto's 'Experimental House' and adopted a similar spirit of openness. We sought opportunities as we went, salvaging sandstone steps during demolition and repurposing them as an internal step and a laneway bench. The builder and his team of carpenters fashioned the doors, windows and joinery with great skill, and our clients made and sourced numerous items. The resulting home is a reflection of the original idea, but also emblemises the craftsmanship of the builder, client and countless others.
Hidden Garden House is the joyful result of creative collaboration. We were trusted with the architectural vision, and yet the final home reflects our client's values and personalities alongside our own. It manifests their commitment to good design and provides a place where they can live a restful, quiet life within a busy city. The final home is a celebration of their handmade efforts, now elegantly embedded in their walls and floors.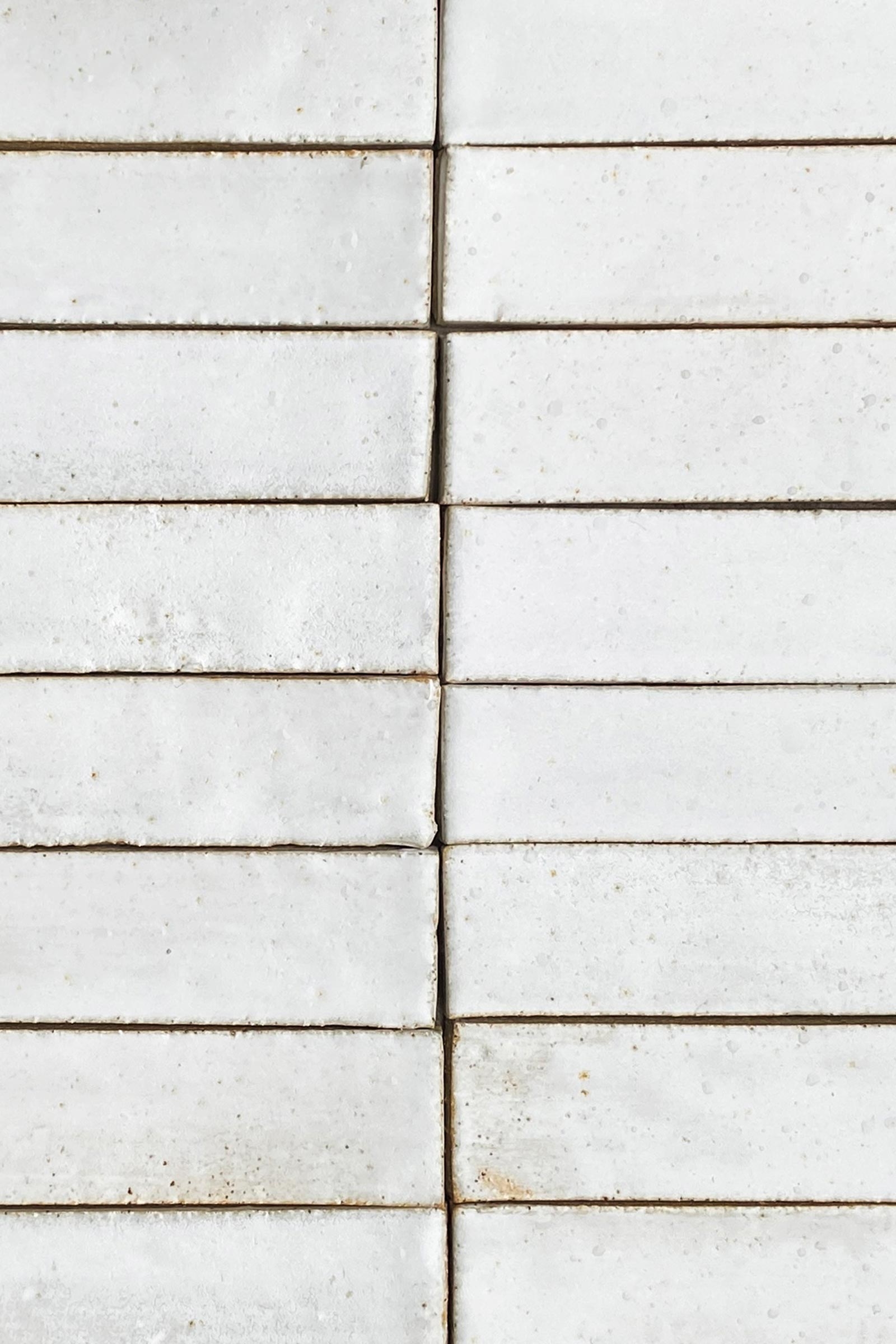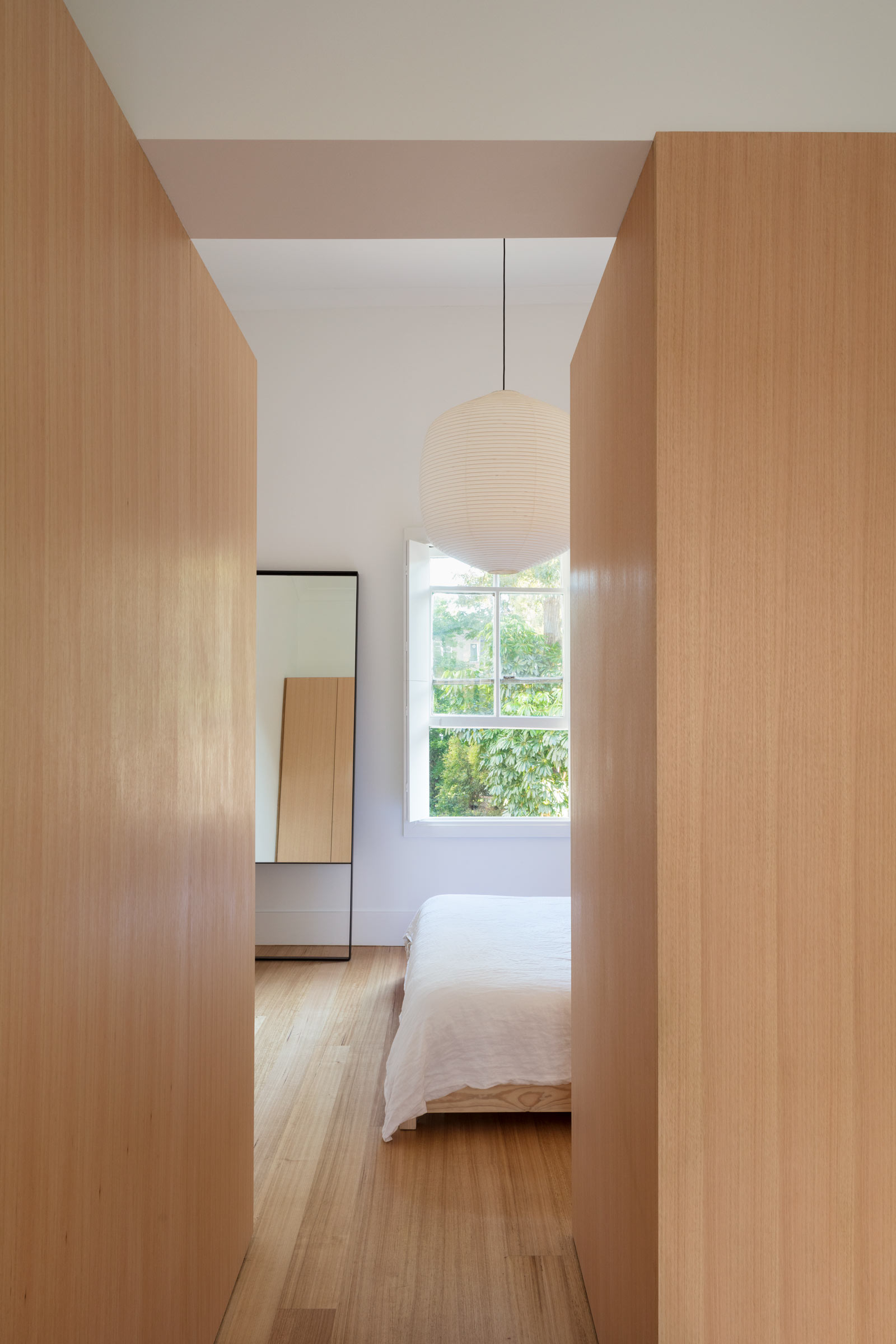 1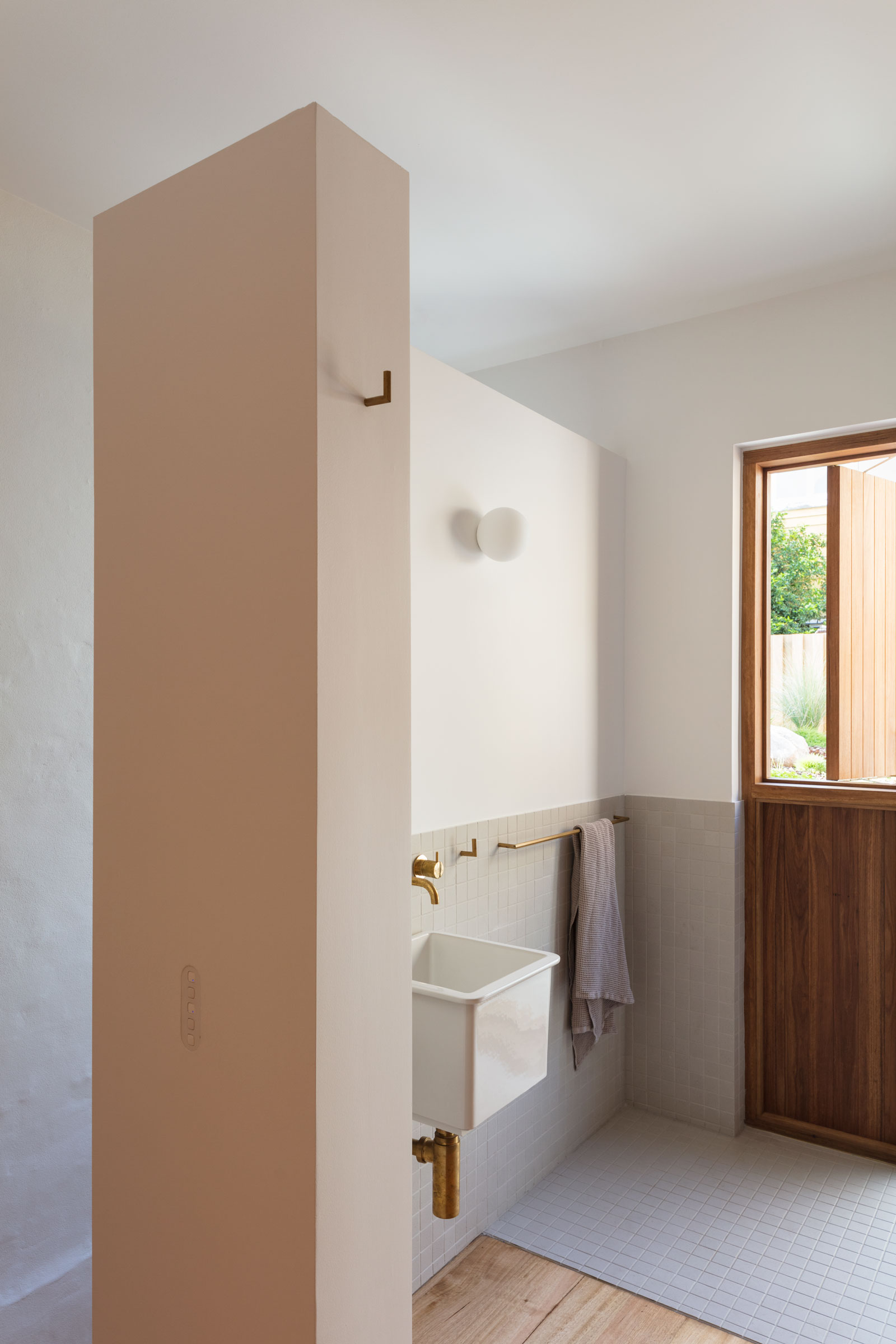 2
1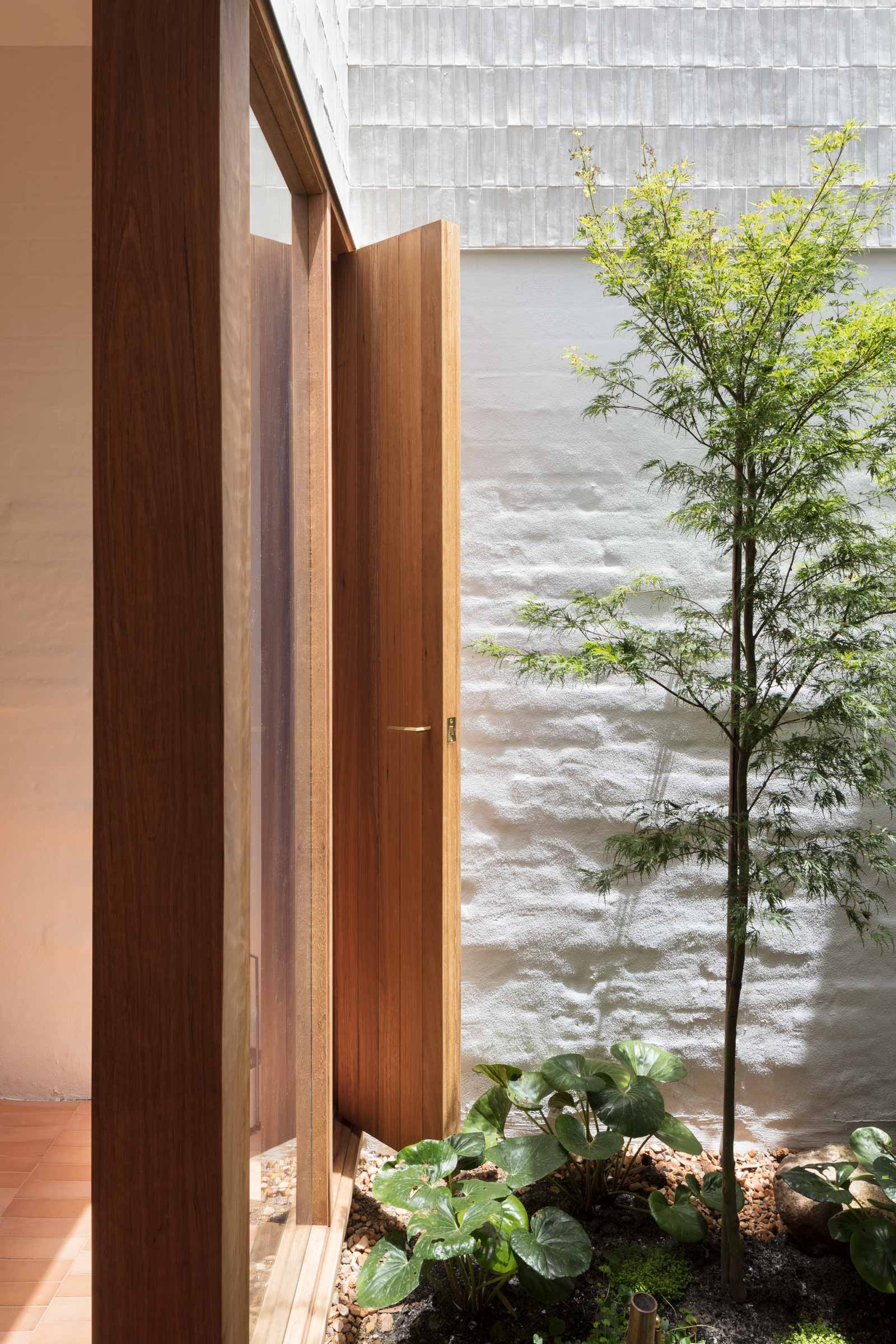 2